Our relaxed homeschooling style gives me the opportunity to connect with my children in a way that may not otherwise be possible.
Our mornings are unhurried.
Most days, the boys (3 and 5 years old) wake up and head straight to the craft room or their set of legos to pick up playing where they left off the night before.
We slowly make our way through the morning – eating breakfast, reading books, and getting ready for the day's adventures or a play date with friends.
I've done the "perpetually late and rarely peaceful" routine for 25+ years. I'm so thankful now for the freedom to slow down and live life at the pace of life, not at the clock's dictation.
I love this about homeschooling – not just that it's a more relaxed and peaceful pace of life, but that it affords us all the opportunity to focus on the big things – putting people first ahead of any arbitrary agenda. Homeschooling is what allows me to connect with my children.
Homeschool: Where Home comes before School.
In all the details of our days, homeschooling allows me the opportunity to slow down, put the task at hand aside, and listen to my child.
The work will get done in a meaningful way at an opportune time, but in the meantime, I get to stop and listen and learn about what matters to this child in front of me, what concerns or worries him, what he is excited about or eager to accomplish.
The other day, my 5 y.o. broke down in tears when I asked him to practice writing lower-case letters instead of always using upper case, since actually we will use lower case letters a lot more often.
He was finally able to compose himself enough to explain that he would "miss writing uppercase letters SO MUCH!" We worked out a compromise that appeased him. 🙂
I'm learning that there's truly no need to push through when there's pushback — life is better for everyone when we all communicate.
I'm also learning the personalities, weaknesses, and strengths of my children.
Lil' Dude gravitates towards independent, imaginative play whenever we leave him be.
Superman will ask unending series of questions about things until he's satisfied that he understands – or until he realizes that we don't know what we're talking about.
Princess Peanut (2 weeks old) is wonderfully peaceful and I'm sure will do no wrong. 😉 So there's that to look forward to.
Unhurried time …

Home before School …

People before Paperwork …
All of this allows me the chance to connect with my children in a deeper way than I could if we were running different directions all day long.
Homeschooling gives me the opportunity to:
snuggle with them as we read stories together,
talk through mental math strategies and follow rabbit trails of related ideas as practice addition, (this is the Math program we use and love)
have long conversations about the similarities and differences between germs and ants,
write / tell / act out / re-create stories, (this is the Writing program we use and love)
follow their lead to play Odd Squad (TM) and squishinate objects for hours on end (tbh, I still don't know how to play this game and probably haven't put forth my best effort in learning … 0_0),
or explain simple sewing techniques as they play beside me while I make something for baby.
Out of the quantity of time spent together, quality time inevitably emerges. I'm thankful I don't have to miss these moments.
Of course … living full time with your children (including all the outings, play dates, and down time that are part of the whole homeschool package) is not without its difficulties.
Tantrums and arguments and the clashing of wills over a serving of vegetables (aka, one bit of carrot) are all a part of life, whether we homeschool or not.
But knowing that we have time at our service, not the other way around, gives us the way to work through things and get to the root of the problem — which more often than not involves either eating or running around. (#lessonsI'velearned)
In what ways has homeschooling allowed you to connect with your children?
---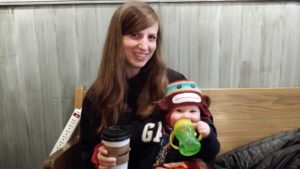 Sandra, formerly a high-school math teacher (M.A.), now homeschools her two boys and shares her interactive, authentic learning activities, homeschooling stories, and passion for learning and teaching at R.E.A.L.-World Learners. You can view her products (including several freebies!) in her Teachers Pay Teachers store.
---
Join us?
Join in on the fun of our Homeschooling is… series. Over 30 families share with you what homeschooling is for them and their families. We will have giveaways, freebies – tons of freebies, support, encouragement, and community!
Make sure that you enter some awesome giveaways from our sponsors!!
**NEW** The Homeschool Garden Morningtime Plans – Enter to win either set! 1 Winner per book.
**NEW** Learning Through Experience: Preschool Curriculum – Enter to win Learning Through Experience Curriculum: The Preschool Experience
**NEW** How to Write the Perfect 5 Paragraph Essay eCourse – This course is perfect for both students who are struggling with writing AND students who love to write. I make it fun, easy to follow and comprehensive. Your student will come away from this course as a confident, capable writer.
**NEW** Holiday Brick Challenge Giveaway – Teach your kids God's Word while they play with Legos! Children read or listen to Bible passages and then build from their imagination and a pile of bricks using simple prompts to get started!
Birch Court Books Giveaway – Enter to win a bundle of books from Birch Court Books! Homeschooling materials for children of various ages, how-to books for homeschooling parents, and a game just for fun.
Practice Monkeys Giveaway –   Enter to win 3 months worth of live Suzuki Violin Lessons from Practice Monkeys! Practice Monkeys is LIVE, online, Suzuki violin lessons at a low monthly price for the whole family.
Wings to Soar Online Giveaway – Enter to win a Personalized Learning Online Package from Wings to Soar Online!
Carole P Roman Giveaway –   Enter to win a bundle of books from Carole P Roman!There is a vast array of diverse series of books ranges from pirates to space fight to princesses and our great world of culture and history.
Dover Books Giveaway – Enter to win $100 worth of books from Dover!! Improve skills of reading and problem solving and make friends along the way in fun-filled settings.
Parenting Made Practical Giveaway – Enter to with the Parenting Made Practical Book!
Make sure to visit our sponsors!