The Multi Taskin' Mom uses affiliate links.
It is no secret that my children love animals and they love Minecraft.  Most of my printable projects are centered around either of those two themes!  Today let me introduce you to a new curriculum that took both of their loves to a new level!
Skrafty:
Welcome!
It's back to school time, and for homeschool families – that means gathering curriculum, planning and finding new ways to inspire kids in their studies. SKrafty Homeschool Minecraft is the perfect way to add the fun and inspiration you need.
This fall, the class line up is spectacular! If you need homeschool math, science, bible, history, language arts or more . . . you are in for a treat. Using some of your favorite homeschool curriculum companies (including Apologia Science, Mystery of History, and A+ Interactive Math) you'll learn to incorporate Minecraft projects into your family homeschool.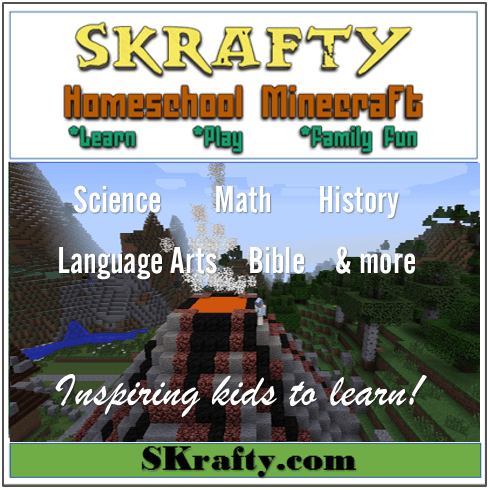 Find out more about the fully monitored SKrafty Minecraft server where it is safe for your family and children – and get whitelisted for FREE right HERE.
SKrafty is specially designed and the rules are constructed to encourage good sportsmanship – with no griefing allowed, no bad language or ugly talk, and no sharing of outside links to protect your children. See a full list of rules HERE.
What other parents are saying about SKrafty Homeschool Minecraft:
"Since starting Skrafty my son has blossomed. His typing has gotten a lot better. School work is not a chore any more I just give him the list of what needs to be done and he does it. He finds the lessons entertaining and engaging and he loves the activities that go along with them. We are all very grateful for Skrafty." ~ Cheryl J.

"My son enjoys playing on Skrafty with other kids and I love that it is a safe, moderated Minecraft server! While playing on Skrafty he has learned creative building, developed critical thinking skills, made friends, and learned to be a team player. The classes have been fun and the reading program has encouraged him to read more than ever. Skrafty has been such a blessing to our family!" ~Julie B.
Special needs learning:
"Skrafty has been a huge blessing to our family! My son with dyslexia is not only learning but enjoying learning!!!! His reading and writing have developed more with Skrafty than any other program we have used. The classes are engaging because they are so hands on and truly turn learning into an adventure. I so highly recommend Skrafty!" ~ Caroline D.
What we learned:
This has been one of the best tools for learning I think we have discovered.  It combined my children's love of animals with their love of Minecraft.  During our last 5 weeks we have learned (yes, we because I am sitting in on this too!) about the arctic tundra and the animals there, the rain forest and its animals, the desert and the animals that live there, and on top of that we had FUN!

My children loved that they could spend time playing a game instead of school work.  Yep, I just let them go on thinking that!  They would spend hours a day creating and editing if I would allow it.

N loved being able to go in and create his shelter within his habitat.  He would decorate it and make it his "home" on the game.

S enjoyed recreating the animals she just learned about.  Her lion blew me away!

We are so pleased with this class that we have already signed up for the Apologia course this fall.  We can't wait!
Affordable:
Extremely affordable classes (between $6.99 – $32.00) make it easy to add creativity and excitement into your education at home. Sign up HERE for live classes or self-paced classes and begin your journey into the world of homeschool Minecraft with SKrafty.
Giveaway Companies – Multiple Winners!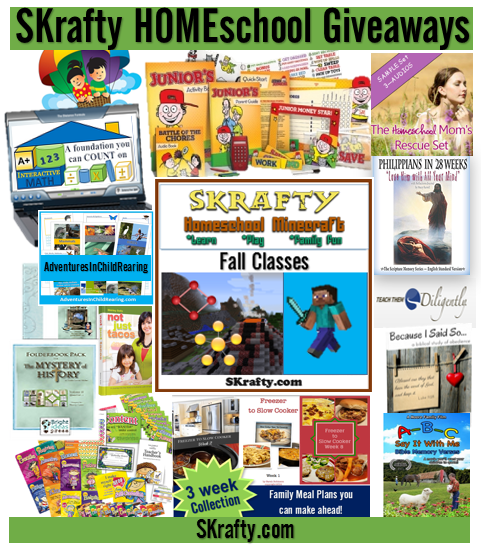 Check out all the wonderful companies and prizes you can win for your family homeschool:
3 SKrafty Fall Classes – Value up to $32 each
Mystery of History Volume 1,2, or 3 & Super Supplemental – Value $150
A+ Interactive Math – Family Package for 3 Students – Value $450
Adventures In ChildRearing – Wildlife Adventures bundle- Value $27.99
We Choose Virtues – Homeschool Kit – Value $98.99
Sidetracked Sarah – Crockpot Freezer Meals 3 pack – Value $8.97
Moore Family Films – ABC Say it With Me – Value $15.99
Not Consumed – Back to School 4 Pack – Value $12.50
Teach Them Diligently – Family Pass to 1 Convention – Value $65
Homeschool Adventure Co. – Philippians in 28 Weeks – Value $18.95
Media Angels – Homeschool Moms Rescue Set – Value $9.99
A Journey Through Learning – Math Lapbook – Value$15.00
Dave Ramsey – Financial Peace Jr. – Value $24.95
Enter with 1 entry or enter with them all:
The following two tabs change content below.
Stephanie is a thirty-something, homeschooling mom of two, that married her best friend in 2003. She is the owner and founder of The Multi Taskin' Mom, Homeschooling on Accident, and Homeschool Printables for Free. Her passion for helping homeschooling moms turned her writing hobby into a full-time job. Since 2013, she has devoted her free time to creating homeschool helps, printables, and a character curriculum: My Character Matters.
Latest posts by Stephanie Eidson (see all)